We need more ambitious climate policy!
UN Early Career Climate Fellows visit Munich Re Foundation
The United Nations Framework Convention on Climate Change (UNFCCC) and the United Nations University (UNU) jointly established a new fellowship programme for highly qualified young professionals from developing- and emerging countries. They will be trained to improve international climate policy. The Munich Re Foundation invited them to discuss climate risk insurance and other innovative financial solutions for protecting the climate.
In the "Early Career Climate Fellowship-Program" they get first-hand experiences about how the United Nations work – with a special emphasis on the interplay of international climate policy and research. The programme favours women and prepares them to take up high level positions in their home countries or in international organisations.
The fellows and Dr. Koko Warner (UNFCCC) visited Munich Re Foundation on 22 and 23 May. Warner manages the "Impacts, Vulnerability, and Risks" subprogramme at UNFCCC. The two-day workshop aimed to highlight the relevance of insurance solutions for climate change mitigation and adaptation. In eight sessions, experts from Munich Re Foundation, Munich Re, the Social Impact Partners and the Ludwigs-Maximilian-University Munich presented various topics. Each presentation resulted in a lively debate among the experts and the UN-fellows. Maryam Navi from Iran and Justice Musah from Ghana confirmed that: "We were not aware of the potentials of insurance solutions in climate protection. However, it was also good to see the limitations."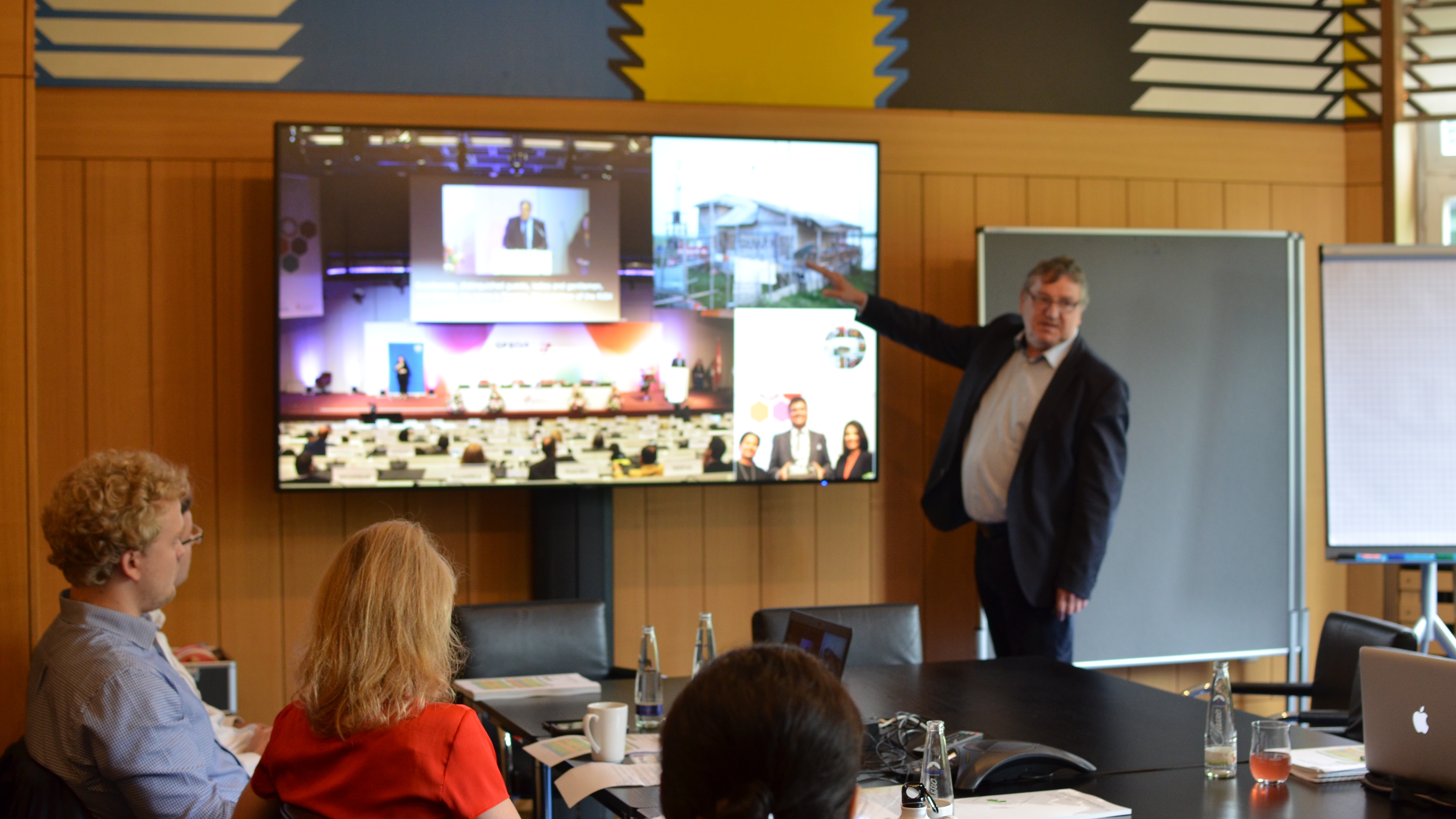 The first day focused mainly on climate risk insurance in developing- and emerging countries. The ambitious plan of the G7 (Elmau Resolution 2015) is to get additional 400 million people from lower income groups under climate risk insurance cover. The GIZ-lead programme "InsuResilience" is – among others – responsible for implementing the goal. Next to protecting people against the adverse consequences of climate change, insurance can also enable new technical solutions that can be interesting e.g. for investors ("Green Tech Solutions").
On the second day, innovative risk management solutions for developing- and emerging countries and Munich Re Foundation's "Summer Academy" were introduced to the fellows. The academy investigates if and how far political planning regarding climate protection is in line with scientific insights on resilience- and vulnerability studies. Identified gaps should be closed in a dialogue. Therefore, the fellowship programme and the Summer Academy have a lot in common. Furthermore, the climate strategy of Munich Re as well as the topic inclusive insurance (microinsurance) and its role regarding climate change adaptation were discussed. In these sessions, key challenges of climate policy once again became clear: food security, poverty reduction and risk management.