Inclusive Insurance Business Models for Africa
6th Eastern and Southern Africa Regional Conference on Inclusive Insurance
23-25 March 2021 – Digital Edition - Mozambique
properties.trackTitle
properties.trackSubtitle
Storms, floods and droughts are key threats for many sub-Saharan countries. Yet insurance against smaller and larger disasters, which would help people and economies to recover, is almost never available. How to change this situation was the subject of the 6th Eastern and Southern Africa Regional Conference on Inclusive Insurance, which concluded on 25 March 2021 as a digital event.
The ongoing pandemic represents an unprecedented challenge. At the opening of the International Conference on Inclusive Insurance last November, Achim Steiner, Administrator of the United Nations Development Programme, UNDP, pointed out that global human development, measured as a combination of the world's education, health, and income standards, was set to decline in 2020 for the first time in a generation. And those who are affected most are the vulnerable poor.
Despite a number of positive developments, insurance penetration remains low. To set the agenda for the 6th Eastern and Southern Regional Conference on Inclusive Insurance, FSDMoc carried out a market study on the status of inclusive insurance in Mozambique. The preliminary findings were presented at the opening of the conference (See Figure 1).
Figure 1

Key inclusive insurance market figures for Mozambique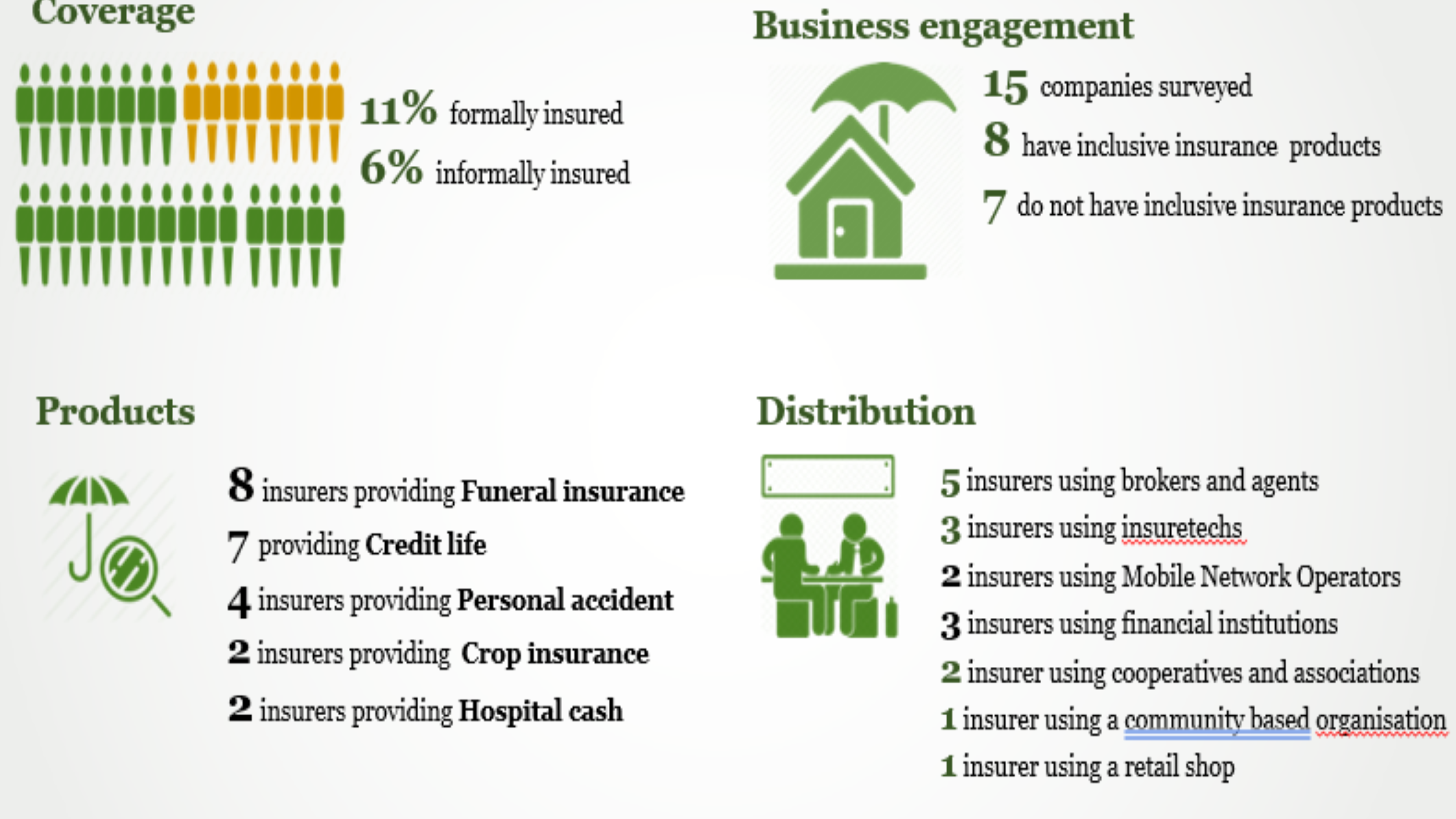 Source: FSDMoc – The Landscape of Inclusive Insurance Mozambique 2021
Market knowledge remains a key barrier
According to findings from the study, which is based on figures from 2019, about 11% of the Mozambique population are formally insured, while 6% have some sort of informal insurance. This represents an increase in the total population covered, from 8% in 2014 to 17% in 2019. The majority of the 15 insurance companies surveyed in the study provide funeral insurance (8), followed by credit life (7). Only two companies offer insurance related to climate risks, such as crop insurance. Very few providers use technology-driven distribution channels, such as fintechs or mobile network operators. Traditional distribution via brokers or agents still seems to be the predominant channel.
Overall, 22 insurance companies and one microinsurance company are active in the country, of which 7 did not provide figures for the study, and 7 said that they are not engaged in inclusive insurance. The main reason given by the insurers for not entering the market was insufficient market information, followed by lack of demand, distribution channels and technical expertise.
Finding the right partners is key
Curratilaine Remane, President of the Insurance Association of Mozambique AMS, underlined the fact that engagement from all stakeholders is necessary for market development, which includes both insurers and distribution channels (see Figure 2), as well as supervisory and regulatory authorities and the government. Otília Santos, CEO of the insurance supervisor ISSM, pointed out that inclusive insurance is the link between insurance and development that the government has always supported. Microinsurance is still in the early phase of development and the government will do more to increase outreach.
Figure 2
Key challenges faces by insurers in Mozambique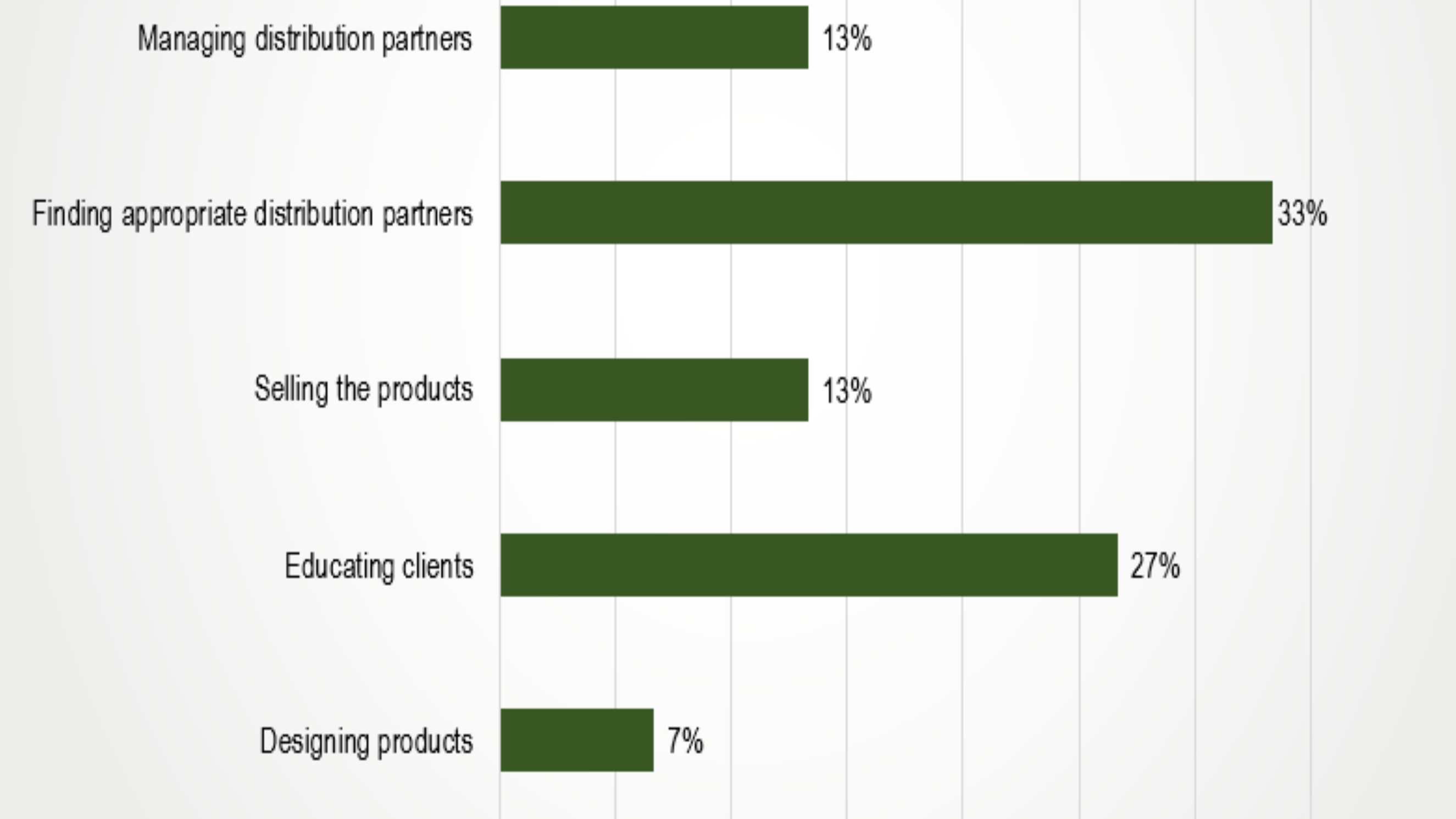 Source: FSDMoc – The Landscape of Inclusive Insurance Mozambique 2021
Partnerships become even more important in the field of climate risk insurance. Most sub-Saharan countries are exposed to drought, flood or storm risks. With a large part of the population depending on rain-fed agriculture, insurance against climate risks plays an important role for most countries in the region. The Zambian example presented showed clearly that it is possible to reach a million farmers with strong government support. PPPs are key, as well as finding the right distribution channels. The same applies for health insurance. Most market-based voluntary health microinsurance schemes have not been viable and have failed to reach scale. However, where public health schemes are in place, they can be complemented with private insurance.
Understand your customers
Insurance needs to create value for the customer. In the case of health insurance, examples presented at the conference showed that success comes from meeting customer needs. Women, for example, were disproportionately affected by the pandemic, and products need to be adjusted to meet their specific demands. Insurance providing "out of the box" cover, such as hospital cash covering transport costs to reach hospital, cash payments to buy masks, or additional services such as access to online doctor consultations, have proven successful. However, key barriers remain customers' lack of understanding of how insurance works, of what it can and cannot do, and a lack of trust. The preliminary results of the Landscape study also revealed that there is need for market players to invest in market research to understand the needs of prospective targeted customers. Knowing the real risk management needs of customers would also help players to create value for the customers by designing and appropriately distributing the right inclusive insurance products.
The way forward
Experience in other countries has shown that the development of an inclusive insurance strategy that takes on board all stakeholders can help to develop the market strategically. Ambitious goals are needed and an alignment of the targets of the various stakeholders. AMS believes that 3 million people in the low-income market could be reached over the next 3–5 years, which would represent an increase from 6% to 10% of the total population of Mozambique compared to 2019. A key component is investment in market research and client education. Ideally, people should be educated about financial issues at a young age. To be successful, such a strategy needs facilitation. The panellists agreed that FSDMoc would be well positioned to assume such a role. And, as the regulatory body ISSM pointed out, effective insurance contributes to the development of the country.
Curratilaine Remane underlined the fact that a design sprint implemented in 2020 with support from FSDMoc has already demonstrated the value of knowing customer needs. 7 insurers that participated in this initiative continue to explore ways to improving their footprints in inclusive insurance despite the negative effects of the Covid-19 crisis on the insurance business.
Representatives of the industry, regulators and government have clearly identified the key challenges and made clear that they are willing to cooperate. Solving cross-cutting issues like regulation and the reliability of infrastructure will not only improve access for the poor, but also for MSMEs and other income groups. With a strategic approach, clear targets, passion and patience, Mozambique will be able to increase insurance outreach and increase resilience against shocks for the most vulnerable in the low-income segment.