Resilient floating homes in Bangladesh: A RISK Award project moves into a new phase!
properties.trackTitle
properties.trackSubtitle
Nandan Mukherjee, from the University of Dundee, proudly accepted the RISK Award trophy in May 2019 on behalf of his project team. At the closing event of the Global Platform for Disaster Risk Reduction (DRR) in Geneva, an audience of several hundred people in the plenary hall were there to applaud the presentation of the award. Today, two years later, much has changed in a world that has been transformed by the pandemic. Despite the many obstacles it faced, the project team has managed to develop an innovative concept for sustainable living in coastal areas. What it now needs to do is bring the concept to reality and implement the idea across the whole of Kutubdia Island.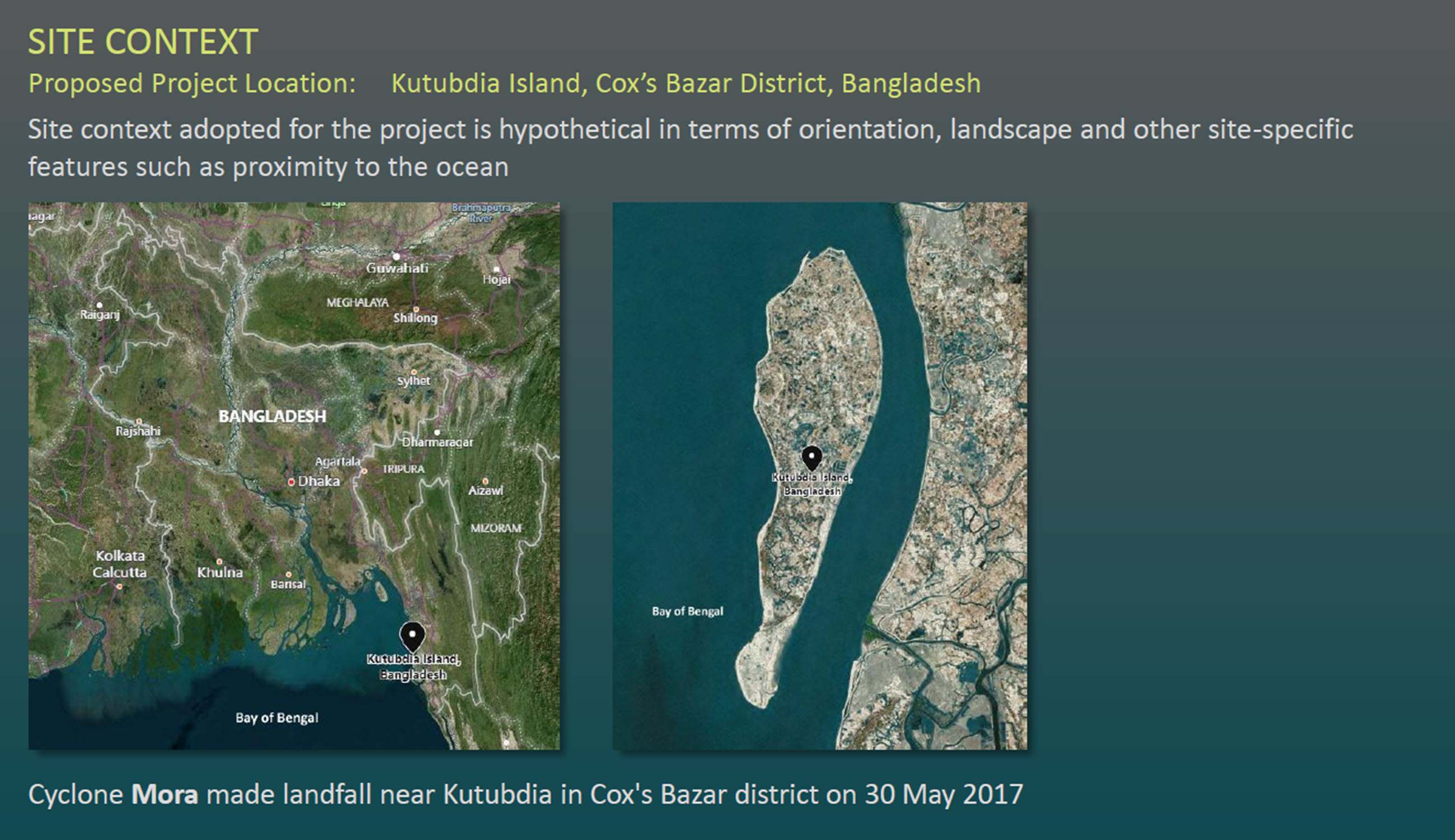 Erosion, cyclones and floods, along with the lack of access to electricity and fresh water, all pose threats to people along many sections of the coasts of Bangladesh. The difference between having a low income and living in extreme poverty often depends on whether or not you own a parcel of land. Entire regions in many parts of Bangladesh are facing the risk of disappearance as a result of the rising sea levels caused by climate change, as well as because of more severe storms and floods. People often do not have time to adapt to new circumstances. And this is where the project idea that won the 2019 RISK Award comes in: the new building concept for resilient floating homes can provide a solution in this context. Regions that previously had to be abandoned on account of frequent flooding and other forms of coastal hazards can now remain habitable because the houses can now deal with the hazard posed by water. This opens up a completely new scope for action. People who are not threatened with the loss of their land can also live safer lives in the new houses. The initial target region is Kutubdia Island in eastern Bangladesh. But the concept can be scaled up as required and used in other regions as well.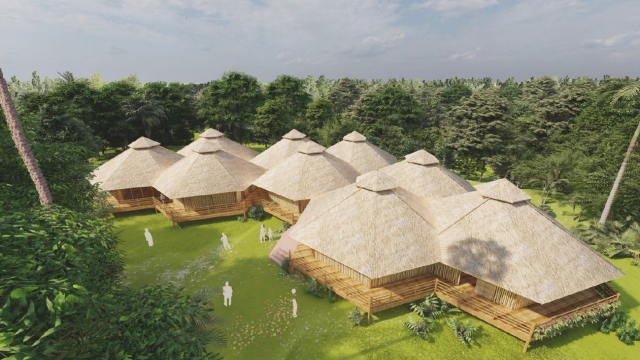 An interdisciplinary team of architects, structural engineers, energy engineers and many other disciplines have worked together on the concept. Thanks to economies of scale, the price for one housing unit can be kept below US$ 2,500 – which is more affordable than many conventionally built homes. The different construction materials, such as bamboo, are sourced from the region, generally renewable and extremely robust against natural hazards. The best suppliers and supply routes were identified in the course of several visits to the local area.
Concept impressions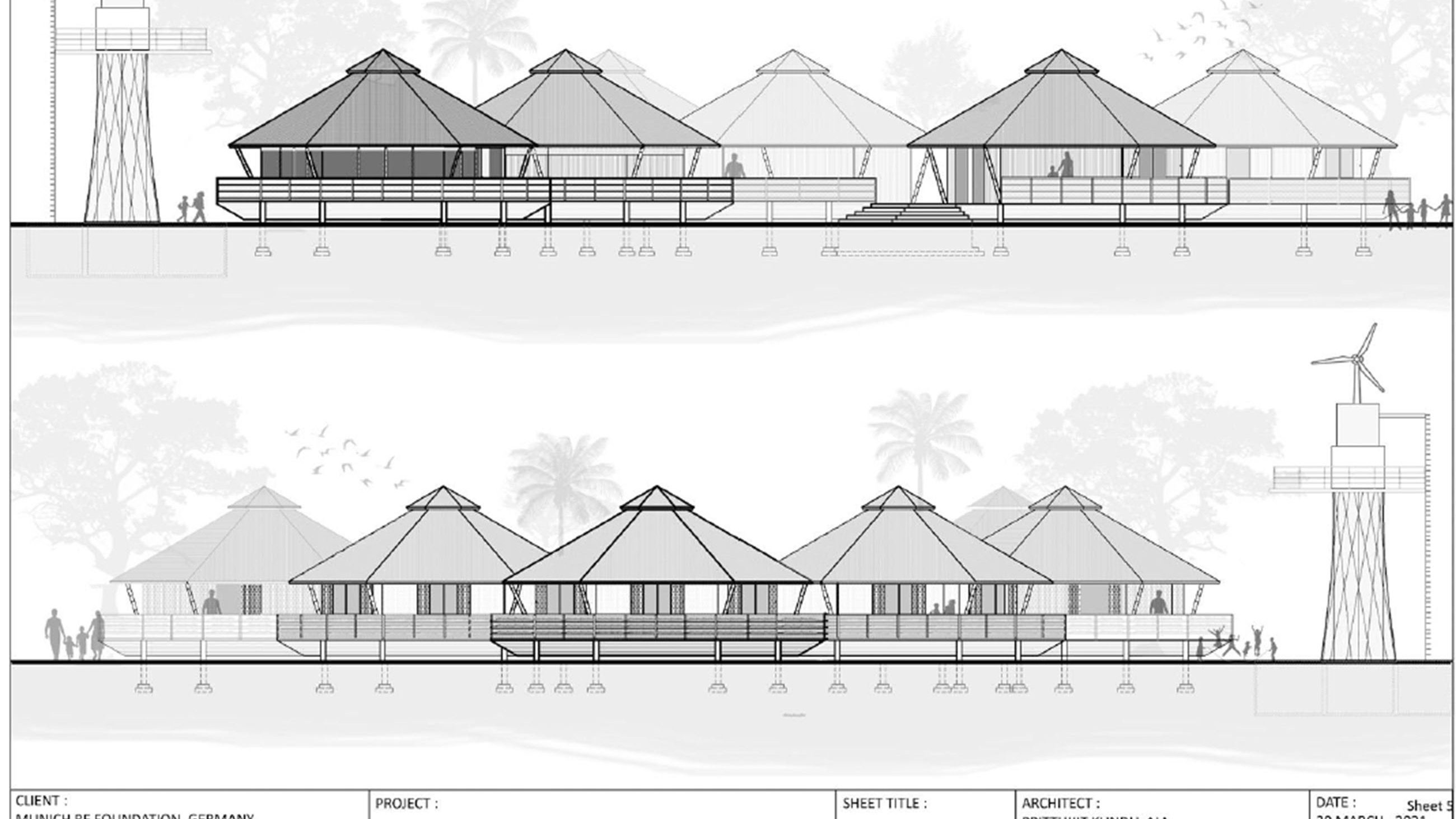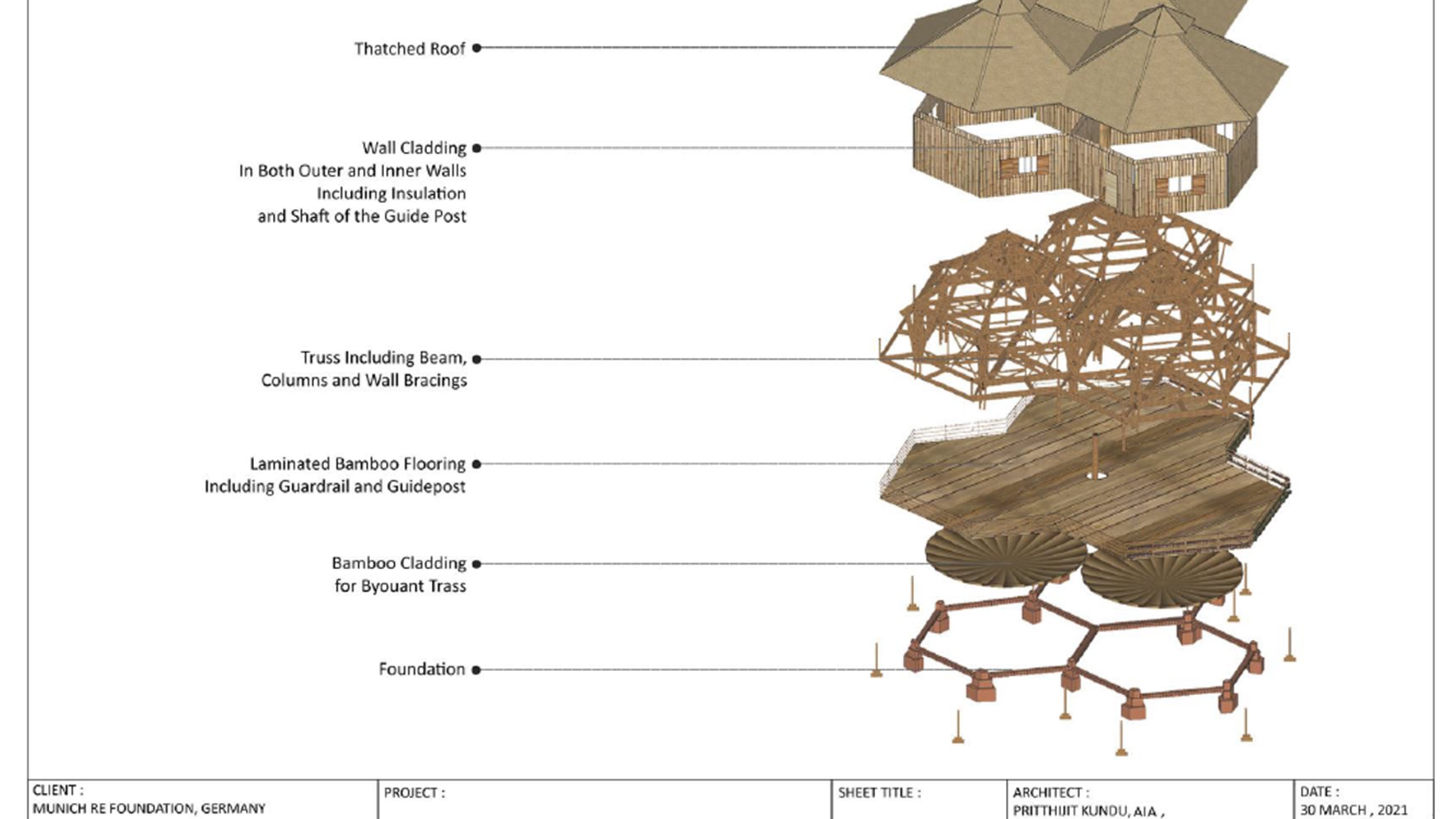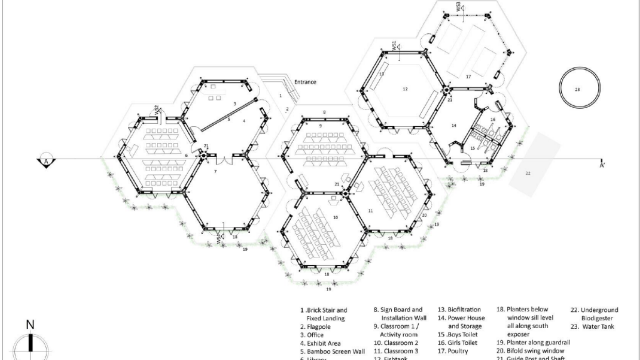 The new houses are not just designed as safe accommodation against sea level rise, storm surge, coastal flooding, earthquake and salinity intrusion, but can also generate income. Food supply is improved by integrating measures such as poultry chicken, fish farming in aquaculture, the cultivation of crop plants using hydroculture, and vertical farming – in other words, growing crops in stacked layers. Safe and abundant source of water for drinking and agricultural use is harvested from rain. And surplus crops can be sold.   Multiple renewable energy sources, such as solar PV cell, wind turbine and biodigester are also planned for each of the housing units, which will reduce their dependence on unreliable local sources of electricity. In the event of a prolonged coastal storm and flood, the house is not only able to float or stand against heavy wind, but can also continue to supply water, food and power to key electrical appliances and devices, such as refrigerators and smartphones. All domestic waste is converted into energy and compost by the house. The efficient energy design strategy allows the house to make the best use of natural light and ventilation to maximise the thermal comfort of the interior space without the use of any mechanical or electrical appliances, such as an air conditioner or electric heater.
As well as the floating homes, there is a further concept for a floating school, which would help put the project on a more long-term footing. The school will not belong to individual families, but instead will be operated by locals as a type of community centre. During cyclones, the schools can be used as emergency shelters, providing refuge for hundreds of people. As well as facilitating regular school lessons, the advantages of this new type of living can be seen directly in the structures. Both pupils and adults can experience for themselves what it is like to live in their own village in a way that is safer, more resilient and more sustainable.  Similar to the design concept of home, the school is also self-sufficient in generating enough food for the pupils, safe water supply, enough income for running the operation and maintenance, and diverse renewable energy options to achieve the 'net-zero' ambition.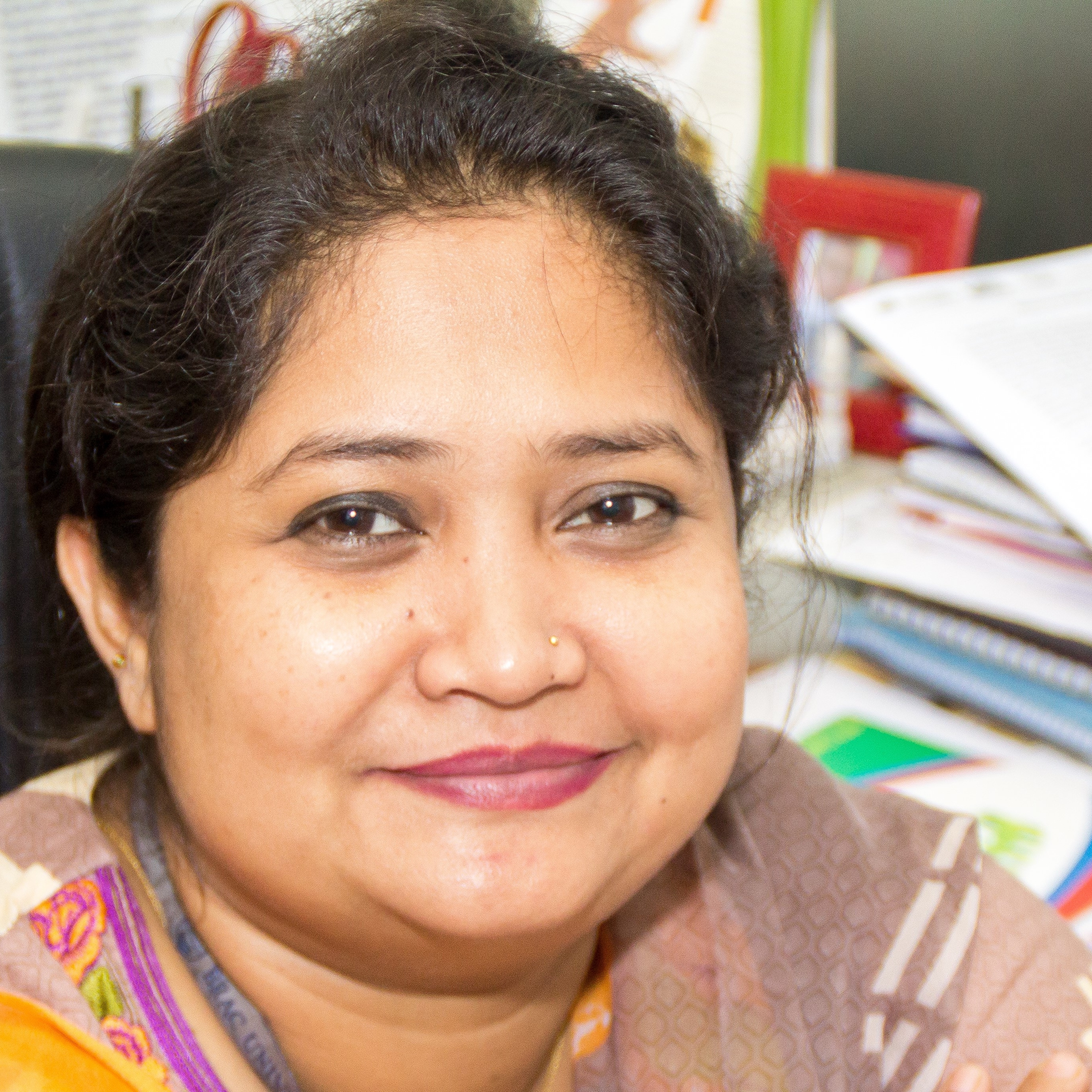 © Resilience Solution
Setbacks emerged again and again because of COVID-19. At times, half of our field team was either infected or self-isolating at home. So we are very pleased that we were able to achieve all the project milestones.
The ways in which a society lives evolve gradually. Geographic, cultural, social and economic aspects all play a role. An architectural masterpiece is not enough by itself to establish new forms of housing. Instead, future occupants must be convinced that their new type of home will be more effective in dealing with future challenges. In cases where a home has to be rebuilt after a cyclone, the decision in favour of a new resilient home needs to be made quickly, automatically, and with no reservations. To achieve this goal, several workshops were organised during the project with all the members of the community on Kutubdia.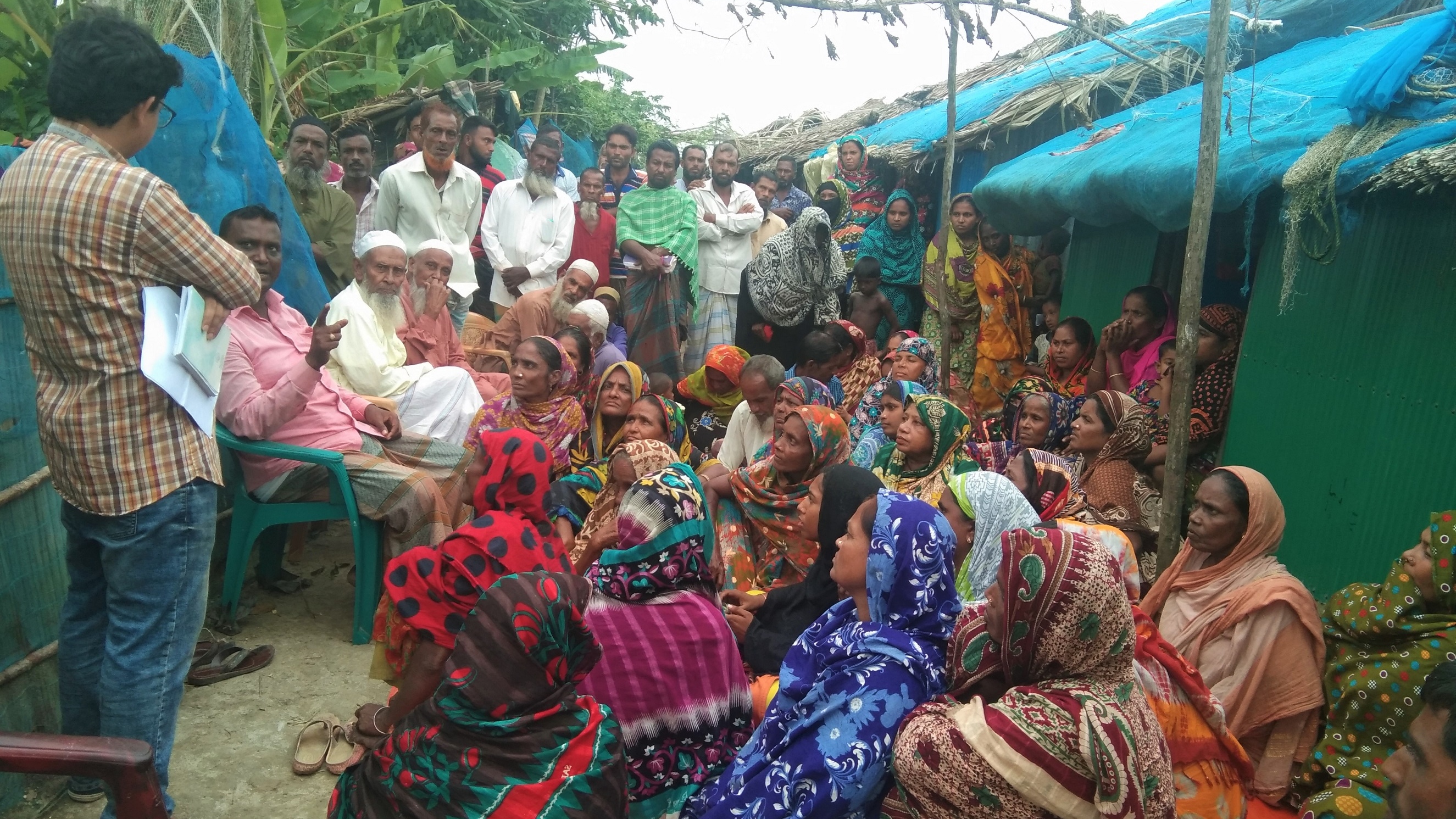 The RISK Award project funds were used to refine the concept, identify potential users, and to integrate as many of the local population's needs as possible in a participatory process. Now the result is to be scaled up. Before the end of 2021, the project partners will be submitting an application for several million dollars in funding to the UN Global Adaptation Fund. If the application is successful, it will allow 500 houses to be built for more than 3,000 people, along with 10 resilient schools (community centres). The existing templates for the do-it-yourself construction of the new houses is to be substantially multiplied and disseminated. A disaster preparedness strategy that relies mainly on nature-based solutions has been included as part of the application. Reforestation, mangrove protection and mixed agriculture cultivation are to form a protective green belt around the communities on Kutubdia Island. A decision on the application is expected at the start of 2022.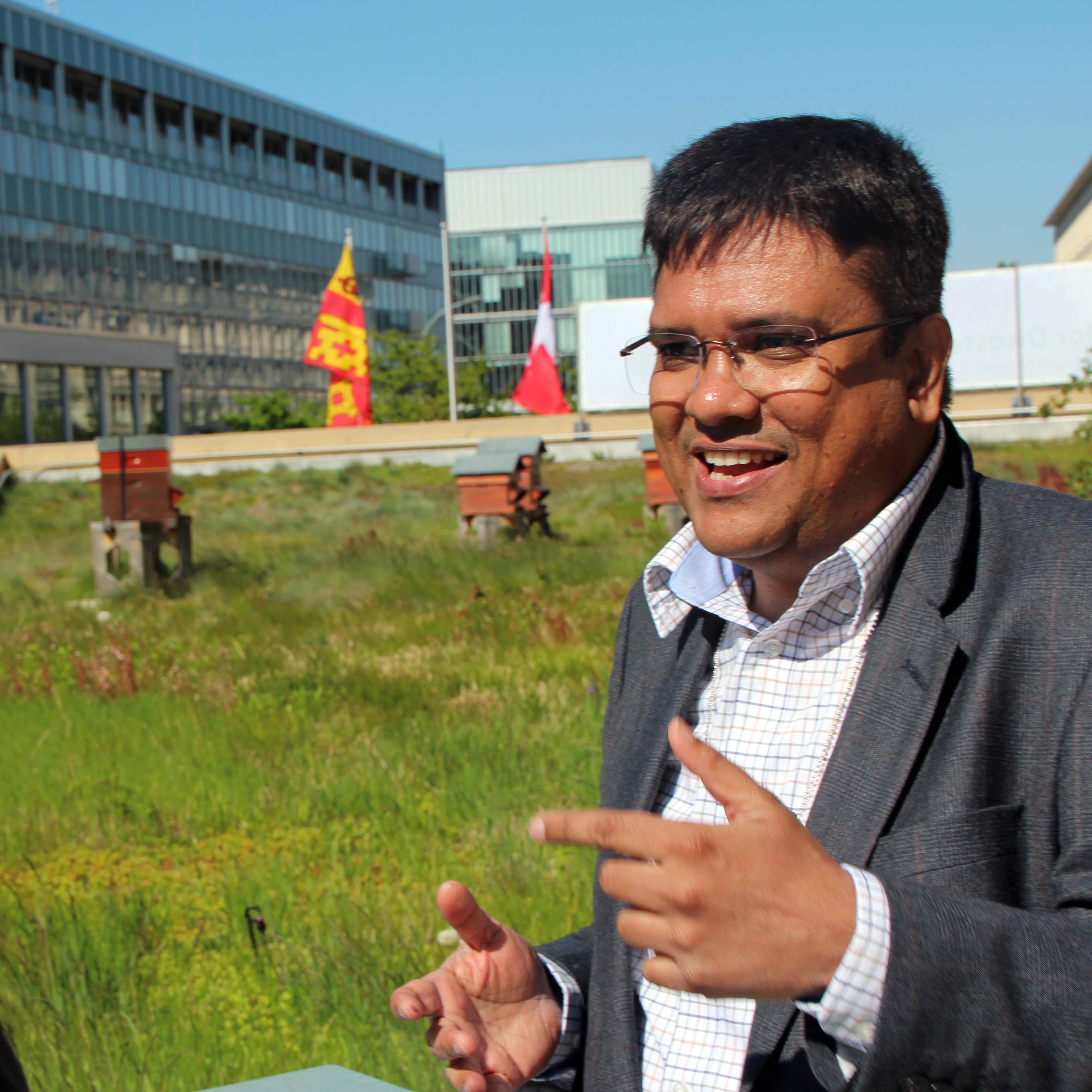 © Munich Re Foundation
Why shouldn't low-income people be able to live in safe housing that is also aesthetically pleasing? This should not be an exclusive privilege of the rich. Our concept also considers the dignity of all human beings.
Nandan Mukherjee from the University of Dundee emphasises once again one of the important goals with the project: "We want to help people to help themselves!" The construction and financing of the houses remains the responsibility of the local people. At the same time, the project can offer a disaster-proof solution featuring ingenious engineering that is at least as cost-efficient as the standard market alternatives – and what is more, is built sustainably.
The Munich Re Foundation would like to express its sincere thanks to the project team. In extremely challenging times, the team managed to implement the project plan with an incredible level of enthusiasm. We will be monitoring further progress and continuing to provide support as best we can.

*************************
Christian Barthelt, 21 June 2021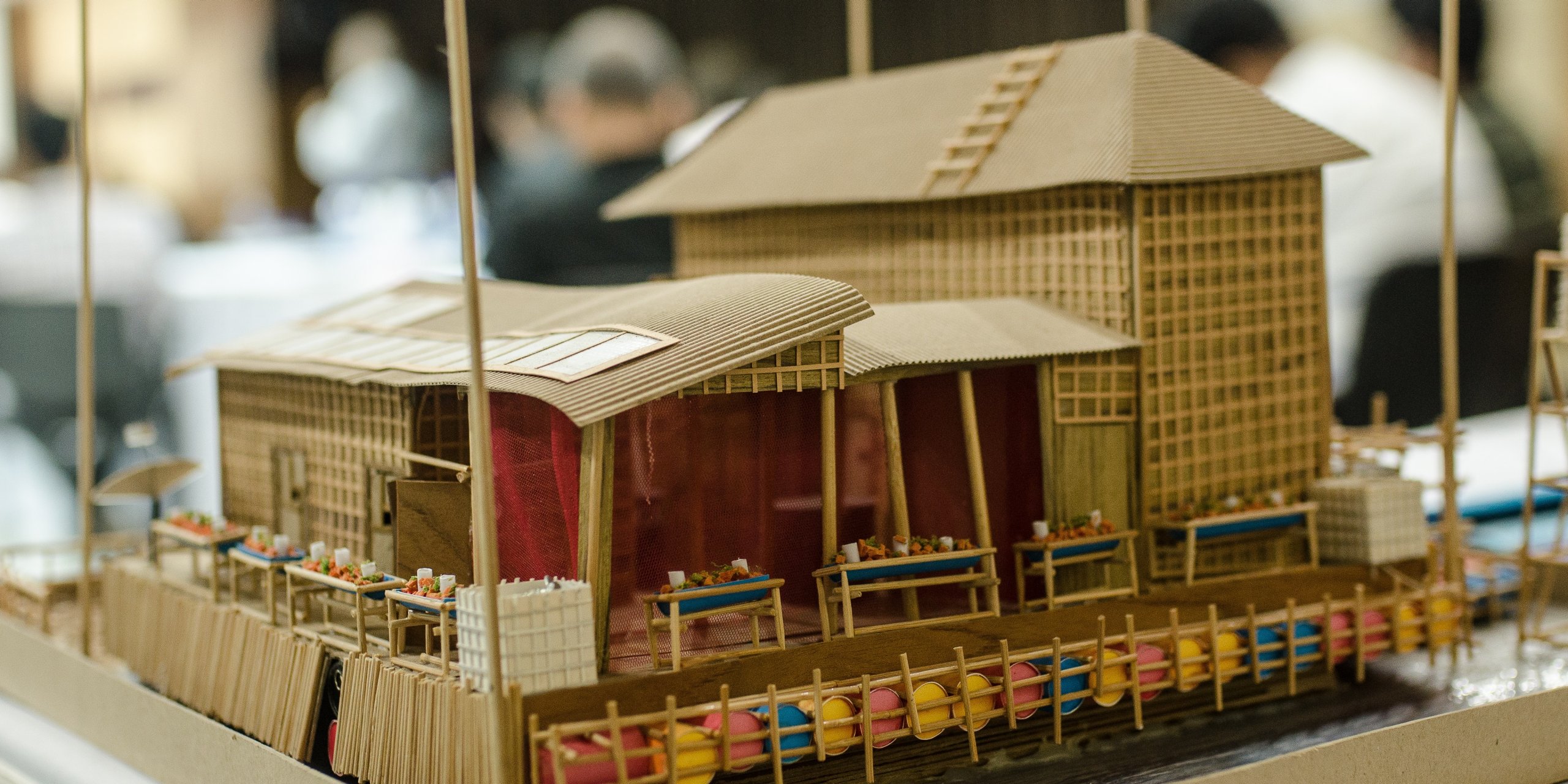 © Resilience Solution