2017 Munich Energy School: Experiencing energy and climate protection at first hand
properties.trackTitle
properties.trackSubtitle
Researching, experimenting, experiencing: pupils attending the exciting workshops of the Energy School Munich learn everything about sustainable power generation, energy conservation and climate protection. The Green City e.V. environmental organisation has been working towards greater sustainability in education since 1990 – with a lot of success.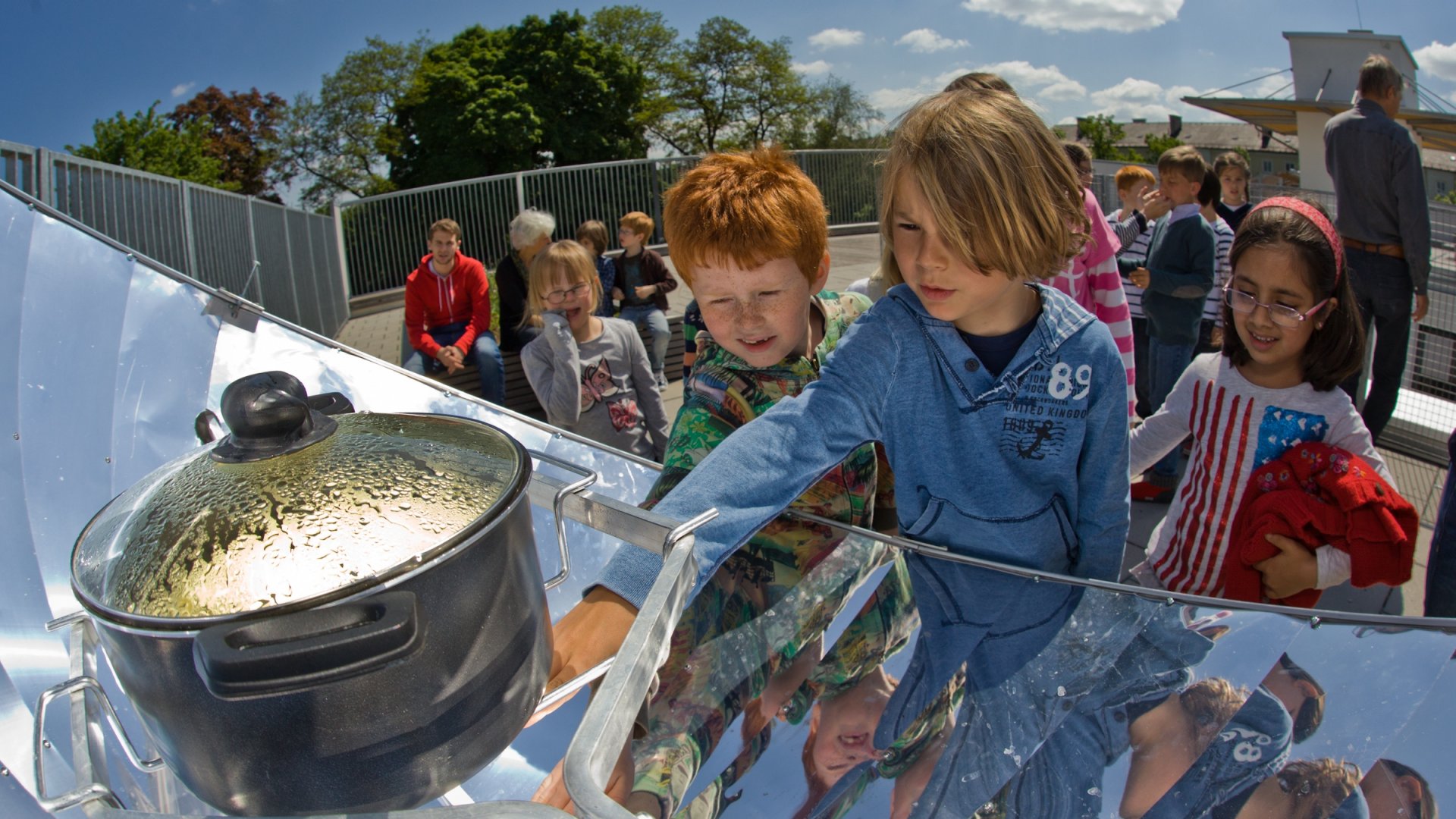 The goal of Green City's environmental teachers is to introduce the adults of tomorrow at an early age to topics that are relevant for the future, such as climate protection and energy consumption, and to motivate them to use resources and energy consciously and carefully. Even the youngest students are already able to conserve energy.
The environmental education team comes to elementary and secondary schools in Munich for several days because they usually have less access to these topics than grammar schools. Amongst others power metres are part of the programme, along with an energy bike and a solar cooker. Then class begins: the children can experience how much muscle power is needed to charge their mobile phone at first hand on the energy bike. They discover how much energy is packed into the sun when they cook tortellini on the solar cooker. And they discuss how much electricity they and their parents can save at home, and where our energy actually comes from. The pupils are very eager to participate and enjoy taking part. Equipped with practical energy conservation tips, the newly trained young "energy consultants" often motivate their parents and siblings at home to pay more attention to sustainable behavior and active environmental protection in everyday life.  
Parallel to the workshops, the teachers integrate the contents of the project days into their lessons. Green City provides teaching material such as worksheets, experimentation guides, films and solar modules. The "Energy with a Future" workshop is specifically aimed at the 7th and 8th grades of secondary schools, and addresses not only the issues of climate protection and energy but also professions in the field of renewable energies and sustainability. This has already made the difficult decision of choosing a career easier for many pupils. In the workshop, they get to know new professions – such as energy consult-ant – and are motivated to make a conscious decision for a sustainable career when it is their turn to choose an occupational education.
As in previous years, Munich Re Foundation once again supported the Green City project in 2017. Some 500 pupils from Munich took part. A huge success, not only for Green City but also for us, as the development of energy-sensitive behaviour at an early age paves the way for living responsibly in the future.
23 April 2018