The Climate Academy 2022
"Digitalization, Energy Transition and Climate Action"
properties.trackTitle
properties.trackSubtitle
The impacts of climate change are being increasingly felt around the globe, often more intense than what was anticipated just a few years ago. There is a growing consensus that the next few years are the last window of opportunity to steer the world in a better and safer direction and avoid the worst consequences of climate change. The scale and ambition of the climate challenge require new ways of thinking and working – across sectors and thematic silos. Achieving sustainable development in countries across the globe will furthermore require innovative forms of social engagement, along with new and improved technologies and collaborative mechanisms. While scientifically informed climate change policy making process is garnering attention, people's perspective, inspiration and pathways to climate action are scantily understood. The climate change policy making process is global by design but several implementation pathways are inherently local, and connecting local with the global is the need of the hour. At the same time, while multilateral policy making mechanisms are facing challenges to gain commitments, people are increasingly voicing their dissatisfaction with the failures of contemporary political processes in delivering compelling climate action.
In this context, science-based participatory approaches are much needed to provide hope and direction. The climate academy programme aspires to address these challenges through a series of dedicated events. The "People's Pathways to Climate Action – Climate Academy" 2022 is being jointly organized by United Nations University's Institute for Environment and Human Security (
UNU-EHS
) and
Munich Re Foundation
(
MRF
) in collaboration with the UN Climate Change Secretariat (
UNFCCC
)
. ICLEI World Secretariat (
ICLEI
) is a special partner for this year's academy.    
Dates and deadlines
Call for applications
27 April 2022
Application deadline (extended)
29 May 2022, 20:00 (CEST)
Notification of acceptance
15 June 2022
Climate Academy stage I (virtual)
12 to 16 September 2022
Climate Academy stage II (in-person)
26 to 30 September 2022 (Kigali, Rwanda)
The 2022 climate academy will take place in two stages:
a) stage I: virtual 12 – 16 September, 2022
b) Stage II: in-person event 26-30 September, 2022
The stage II (in-person) event is scheduled to take place in Kigali, Rwanda, depending upon the COVID-19 situation and prevailing regulations. In case an in-person event will not be possible, stage II will take place virtually as well. Additionally, to virtually engage with interested actors from across the globe and enhance our collective voice, some virtual key events of the academy will be open for a broader audience. The 2022 academy will have a special focus on digitalization and energy transition and their application in facilitating climate action. Young professionals, including academics, policy makers and practitioners are invited to apply between 20 April and 22 May, 2022.
Climate Academy 2022: Digitalization, Energy Transition and Climate Action
The so-called 'fourth industrialization revolution' has brought digital technologies to every aspect of our life across the globe. This has opened a strategic window of opportunity to keep the world below 2°C through transformative changes in our collective response to climate change.   The application of digitalization in this regard seems particularly promising in reducing vulnerability and limiting exposure to risks and facilitating steep decarbonization. At the same time, the question of energy transition has become even more important to not only support the sustainable development of communities across the world which depends on equitable access to energy but also to mitigate and manage any rebound effect of digitalization as well as growing energy consumption. In particular, this theme will explore how digitalization interacts with energy consumption which is by far the biggest emitter of anthropogenic greenhouse gases, at more than 73%. The IPCC has identified energy consumption as one of the four megatrends that must change fundamentally to effectively address climate change. This debate is often addressed from either source (renewal versus fossil) or technical standpoints (efficiency, automation etc.), building on these the academy aspires to understand how digitalization and energy transition interact in specific contexts (such as in smart cities and in rural areas) and come up with key steps that can inform the policy makers and support our collective climate actions.
To further explore points of interest for the academy, applications are invited to address three different pillars of this year's academy:
Pillar I – 'Smart' urban areas and communities:

Cities are at the forefront of the digital wave. A set of digital tools and innovations ranging from remote sensing and GIS, blockchain, Internet of Things (IoT) and artificial intelligence (AI) to name a few, are bringing a paradigm shift in how cities are designed, planned and managed.   These increasingly ubiquitous 'smart' cities have profound impacts, the way energy is produced and consumed in cities is changing as well. This nexus of 'smart' urbanization and energy transition can help in making cities more sustainable and climate transformative. In this pillar, we would like to understand and address how energy transition and digitalization in the cities of today can help in reducing their climate risks and foster transformative climate action.
Pillar II – Digital energy transition in rural areas:  
Access to electricity in the Global South and specifically in many African countries still remains limited. While the past decades have witnessed commendable increase in access, it remains disproportionately low in the rural areas.   For a continent rich in traditional as well as cleaner sources of energy, a balanced approach to enhance energy access while contributing to climate action is needed. The emergence of digital technologies and innovations offers a window to modernize existing energy generation, transmission and distribution infrastructures and accelerate the deployment of decentralized, sustainable renewable energy solutions that can address electricity access challenges both for urban and rural populations and contribute to the global and regional climate and decarbonization agendas.     
Pillar III - Digitalization, Energy Transition and Global Climate Action:  
One of the key objectives of the academy programme is to inform the global climate change policy making process by presenting the cutting-edge scientific knowledge as well as people's perspectives on academy themes. In this pillar, we aspire to closely understand the means of implementation that can support the increased uptake of digitalization and energy transition (with focus on selected sectors/technologies – tbd) which in turn catalyze transformative climate actions. With particular focus on understanding the capacity gaps and financial tools needed to facilitate such uptake in policy documents such Nationally Determined Contributions (NDC) and National Adaptation Plan (NAP), this pillar aims to provide policy guidelines leading to transformative mitigation and adaptation (wrt. digitalization and energy transition) aimed at the national policy makers.
Objectives of the academy programme
First, it aims to advance the scientific understanding of people's perception and concerns towards climate change induced risks. It aims to do so by convening leading researchers and other key stakeholders to collect, discuss and jointly advance latest approaches related to the academy's thematic focus from across scales and world regions. The academy will also address and debate existing participation mechanisms in the global climate change policy making and implementation mechanisms and explore possible leverages that digitalization presents.    

Second, it aspires to apply this understanding to advance participation pathways to enhance the effectiveness of the existing and proposed solutions that reduce exposure and vulnerability of people and societies to climate change impacts.  

Third, the academy aims to foster the science-policy-action interface by feeding knowledge and solutions gathered and generated directly into policy processes (crucially, in collaboration with UNFCCC and ICLEI). At the same time, the agenda of the academy is itself driven by transdisciplinary co-creation to facilitate the formulations of comprehensive solutions and their implementations. Academy participants will engage with these selected policy gaps and needs and contribute the created knowledge and reflections into UNFCCC discussions around national adaptation planning, closing adaptation knowledge gaps, planning and creating contingency arrangements, research dialogues, relevant committee work programs and other policy outlets. Academy participants similarly have the opportunity to interact with communities of practice engaged with decision making.

Unique network and dialogue with the UN delegates, government officials and delegates to the UNFCCC climate negotiations
Close cooperation with leading policy makers and actors from the climate change domain  
Possible outreach to the ICLEI network
Financial assistance to deserving applicants (for in-person participation in stage II)
We are looking for researchers and practitioners with documented experience of working on at least one (preferably two) of the aforementioned pillars. Successful candidates are qualified persons with profiles such as doctoral researchers in the final stages of their research, post-doctoral fellows, lecturers, assistant professors, practitioners working in public bodies, implementing agencies, civil society advocates and any other organization related to the theme of the academy. Particular attention will be given to outstanding candidates from least developed countries. Successful candidates are expected to fully participate in stage I and II of the academy. Selected participants are expected to engage proactively before and during the academy and contribute to the envisaged outputs. These include but are not limited to research papers, policy briefs, participation in events, policy engagement, etc.  
Advanced English language skills will be necessary.
In addition to the general information, the application portal asks for:
A short motivational letter (400 words max.) including one concise paragraph describing how your work relates to the Climate Academy 2022 theme.  
A concise abstract (300 words max.) of the work you would like to present, covering the rationale, approach/methods and key findings (or perceived findings) of your work. This work can be based on research or practice (or both) and should be very closely related to the theme of this year's academy (explained in the candidate profile part) and if selected would serve as your initial contribution towards participation.  
An up-to-date CV, including a list of publications and/or concluded projects if available.
Format and outcomes of the Climate Academy programme
The central element of this programme is a set of three sessions of the climate academies: the first one focusing on NbS and urban vulnerability took place virtually in 2021-2022, this call pertains to the second one focusing on digitalization and energy transition scheduled for September 2022 and the third one focusing on climate change induced mobility which will be held in 2023. Each academy is designed to convene 20-30 participants, experts and organizers. These shall include researchers (a mixture of PhD students, post-docs, junior professors, mid-career researchers), practitioners (e.g. from national/sub-national concerned ministries, civil society, local government personnel and managers) and selected policymakers.
In addition, the academies will feature 2-3 invited high-level speakers/mentors. Each academy is foreseen to lead to the coordinated production of a number of publications, ranging from academic papers to policy briefs. These contributions are meant to provide specific scientific inputs as well as support the climate change adaptation (and mitigation wherever applicable) related policy formulation and implementation mechanisms of relevant stakeholders.
The academy series is designed to directly inform the application of scientific knowledge and tools in policy and action. The targeted domains include the global institutions for risk reduction and adaptation (e.g. the management of the Adaptation Fund and the Green Climate Fund), national ministries behind adaptation policies and disaster risk reduction, or local decision makers (e.g. at city scale). Besides state organizations, transfer and application of methods and knowledge is also directed at other actors from the private sector (e.g. insurers) and civil society (e.g. non-profit associations or philanthropic foundations).
For any further clarification, write to: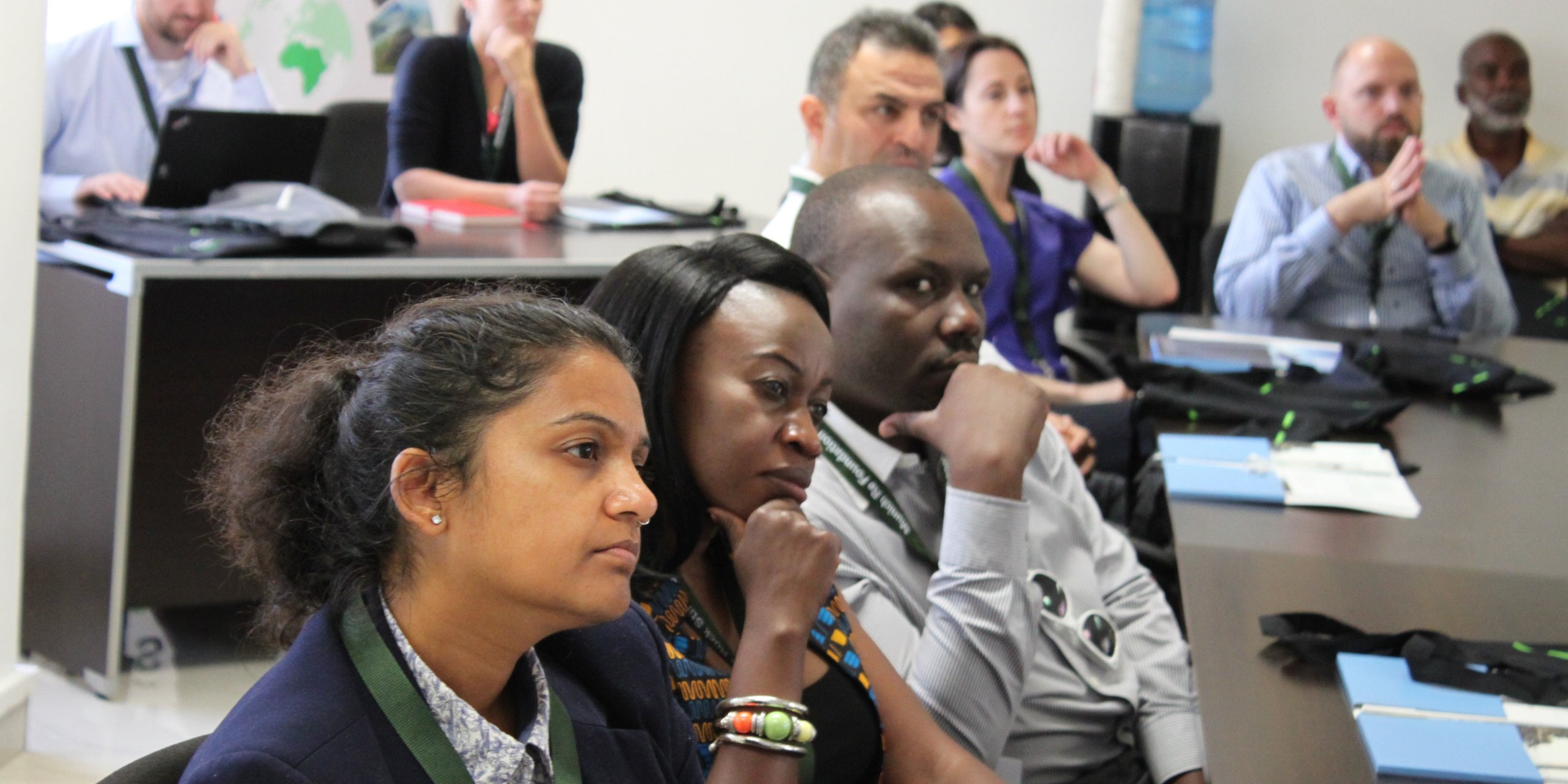 © Munich Re Foundation
Hosts and project partners