The need for growing resilient economies
7th Eastern and Southern Africa Regional Conference on Inclusive Insurance
13 - 15 July 2022, Livingstone, Zambia
properties.trackTitle
properties.trackSubtitle
Insurance for the low-income communities in Zambia has seen steady growth as in many other countries in the region. The number of people covered by microinsurance in the country increased from 2.4 million in 2018 to 3.3 million in 2020 but still excludes a large proportion of the country's population. Major reasons for not being insured stated by customers are that people had never heard about insurance, do not know how it works or do not know where to get it. How to overcome those barriers was discussed at the 7th ESARC.
Understand the needs of the market
Currently 11 out of 30 companies in Zambia are active in the microinsurance market. For over ten years, the Zambian Microinsurance Technical Advisory Group (TAG) has acted as a stakeholder platform to facilitate market development and increase insurance outreach. Key challenges remain a lack of products and trust in insurance, insurance illiteracy as well as a lack of cost-effective solutions to develop, distribute and manage insurance products. Furthermore, a lack of the understanding of clients' needs is still a key barrier. More market research is needed. Experience from Zambia has shown that diagnostic studies to understand demand and identify barriers has proven to be a successful starting point for market development activities. Experience from Zambia is also testament to what can be achieved through a strategic sector coordination platform that gets key stakeholders to work together for a common goal.

Experts agreed that products should not be developed in a boardroom. Key is customer centricity and understanding clients. Bundling different products, for example by embedding health in life insurance, may address the needs better. Being there in times of need and having pro-poor exemption policies is a key element to create trust in insurance. Designing products with a higher claims ratio can create a positive customer experience. Asking for feedback from customers can increase the value of the product and sharing positive experiences may attract new customers. This was the main learning from the national health insurance scheme of Ghana presented at the conference.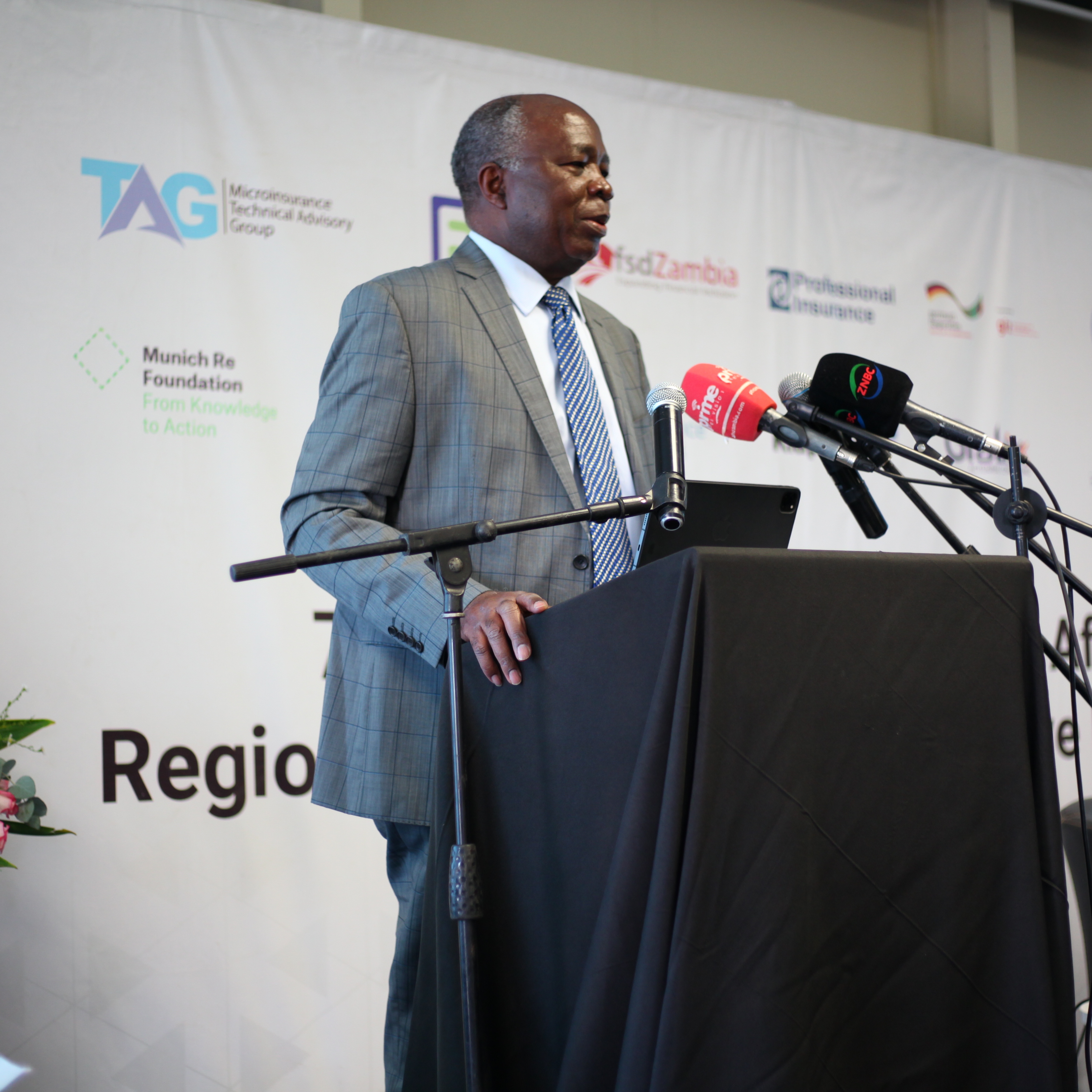 © TAG
Growing the economies in Africa is important so that incomes can increase. ... The agenda to grow the economy (in Zambia) includes the reduction of barriers of access to products and services. [...] We want business to make profits. Business that is not making profits is useless. [...] When taxes are being reduced, insurance companies should put their profit back into business. ... Regulatory activities should be coordinated. [...] The challenge for the insurance industry is to make itself relevant. How can people understand that insurance is good for them?
According to the Centre for Strategic and International Studies, MSMEs account for 90% of the private sector and 50% of employment in Africa. But they are not yet seen by the insurance industry as key clients. MSMEs face a variety of risks that threaten their economic development. Holistic insurance solutions are needed that not only focus on indemnity but on proving a risk management service can make them more resilient and support economic growth.
Digital is the future and the future is now
Digitisation has been boosted by the pandemic. Mobile money, especially in the Sub-Saharan region, has been a true game changer that has substantially accelerated access to digital financial services. Fully digital processes in the provision of insurance solutions can reduce costs and increase outreach and create an easy customer journey. Well-managed partnerships such as ones between insurance providers and fintechs have proven to be successful, especially when interests were aligned and the individual roles were clearly defined and implemented.
However, because clients may have data protection concerns or may not be familiar with the use of digital solutions and the digital infrastructure is not always fully reliable, providers should always have additional options available to distribute and service insurance. Furthermore, going digital does not completely mean no physical contact to explain products to clients. Experiences shared by BIMA Ghana and AYO Zambia demonstrated strategic use of agents and call centres to provide insurance consumer education and product information. Nevertheless, the potential of digital solutions is huge. To fully explore the possibilities, innovation requires a sandbox approach which allows insurance providers to test new products in a defined environment.

Balance innovation and consumer protection
Insurance supervisors have the role to develop an enabling regulatory environment that can stimulate and support innovation, scale and commercial stability. At the same time, regulators need to look closely at market conduct, fair consumer outcomes as well as financial stabilities. Different regulatory approaches have been applied so far, such as specific microinsurance licences, defining product features for inclusive insurance as well as the definition of requirements for distribution channels and claims processes. In the case of Zambia, following the enactment of the new Insurance Act of 2021, inclusive insurance regulations are currently under development. The Insurance Act introduces a new licensing category for microinsurers. The inclusive insurance regulations will provide specific provisions and requirements for both conventional insurers undertaking inclusive insurance business and dedicated licensed microinsurers. The regulations for microinsurers will cover operating business requirements including but not limited to capital, governance structure and market conduct.
Industry representatives called for better coordination among the different regulatory entities as well as the different ministries that deal with the topic of inclusive insurance such as the Ministry of Finance and National Planning, Ministry of Health or Ministry of Agriculture. The lack of education among the public as well as inadequate data remains a challenge which can only be addressed in close cooperation between the industry and public stakeholders. The TAG continues to play a critical role and, as part of its forthcoming strategy, it seeks to establish an inclusive insurance education pool that will enable insurance companies, distribution channels, development agencies and government entities to pool their resources and work together to improve understanding of insurance and awareness of available products on the market.

The way forward in light of climate change
The importance of partnerships, not only with the government, was quoted many times throughout the conference. Successful partnerships must be developed on the basis of mutually agreed goals, long-term commitments and aligned interests to create value for all stakeholders, especially end-users of inclusive insurance solutions. Insurance schemes must be aligned with broader policy objectives such as increased access to finance, improved agricultural productivity, reduced vulnerability and enhanced social protection. The awareness of clients about the benefits of insurance must be increased. Agricultural income is particularly important in most Sub-Saharan countries. Making this sector more resilient against climate risks is hence a key concern. Insurance can help to make the agriculture sector as well as entire economies sustainable and resilient.
The Minister of Finance and National Planning asked the insurance industry to submit suggestions, concepts and proposals for inclusive insurance market development. Shipango Muteto, Chairman of the TAG, noted in his closing remarks that this will happen within a few weeks and announced that the TAG aims at doubling the number of lives insured from 5 million to 10 million in the next five years. A key element will be the launch of the new inclusive insurance regulations, the launch of TAG's new strategy, increased private sector responsiveness to the inclusive insurance business as well as continued and increased participation of various public and private sector stakeholders in inclusive insurance sector coordination and market facilitation. The role played by development agencies like Financial Sector Deepening Zambia (FSD Zambia) and GIZ remains critical. Investments in the development of PPPs as well as the promotion of client-centric product development processes will be made and the development of micro pensions will be supported. Improving insurance culture take time; however, Zambia seems to be on the right path with inclusive insurance. For instance, increased uptake of funeral insurance policies is evidence that it is possible to break myths around death with strong value propositions for insurance and strategic consumer education. Ultimately, success comes when both private and public stakeholders stay with the goal of improving resilence of end-users; reducing vulnerability through better risk management for people regardless of their income or geographical location.

----------------------------------------------------------------------------------------------------------------------
About the event

The 2022 Eastern and Southern Africa Regional Conference on Inclusive Insurance was part of the series of regional learning sessions aimed at contributing to the development of inclusive insurance markets in Africa. The 7th regional conference was hosted by the TAG Microinsurance Association, Munich Re Foundation and FinProbity Solutions. The conference was supported by the Pensions and Insurance Authority (PIA), the Insurers Association of Zambia (IAZ), Financial Sector Deepening Zambia (FSD Zambia) and the Microinsurance Network.
DR 28.7.2022
Pre-conference events - July 13
Hosted by TAG & FinProbity Solutions
Lorenzo Chan
President, Pioneer Insurance, Philippines
> download presentation
Ovia K.Tuhairwe
CEO, Radiant Yacu, Rwanda
> download presentation
Agnes Chakonta
Managing Director, Madison Life, Zambia
> download presentation
Moses Siami
Managing Director, Professional Insurance Cooperation Zambia (PICZ), Zambia
Barbara Mwandila
Managing Director, Hollard Life Assurance, Zambia
> download presentation
Moderator
Lemmy Manje
Founder & CEO, FinProbity Solutions, Rwanda/Zambia  
Pre-conference events - July 14
Hosted by FinProbity Solutions
Indira Gopalakrishna  
CEO,  Inclusivity Solutions,  Singapore
> download presentation
Andrew Nkolola
CEO,  AYO Zambia
> download presentation
Oscar Githinji Ng'ang'a
Business Development Manager,  MEDbook,  Kenya
Siani Malama
Business Development Manager,  Democrance,  Kenya
> download presentation
Facilitator  
Jeremiah Siage
Co-Founder & Director,  CoverApp,  Kenya  
> download presentation  
Facilitator  
Lemmy Manje
Founder & CEO, FinProbity Solutions, Rwanda/Zambia  
> download presentation
Conference agenda - July 14
Shipango Muteto
President, TAG Association/Zep-Re, Zambia
Engwase Mwale
CEO, FSD Zambia, Zambia
Dirk Reinhard
Vice Chair, Munich Re  Foundation,  Germany
Keynote Speech  
Craig Churchill
Chief - Social Finance Programme and Team Leader - ILO Impact Insurance  Facility,  Switzerland
Moderator
Mauwa Lungu
Director - Financial Services Supply, FSD Zambia,  Zambia
Landscape presentations
Mark Robertson
Knowledge Manager,  Microinsurance  Network,  South Africa
> download presentation
Landscape presentations
Lemmy Manje
Founder & CEO, FinProbity Solutions, Rwanda/Zambia  
> download presentation
Anselmi Anselmi
Microinsurance  Coordinator,  Tanzania
Elias Omondi
Senior Manager – Risk Regulations, FSD Africa, Kenya TBC
Yizaso Musonda
Manager – Ag Market Development, Pensions and  Insurance Authority,  Zambia
Moderator
Janina Voss
Advisor, A2ii,  Germany

> download all presentations from Session 2
Conference agenda - July 15